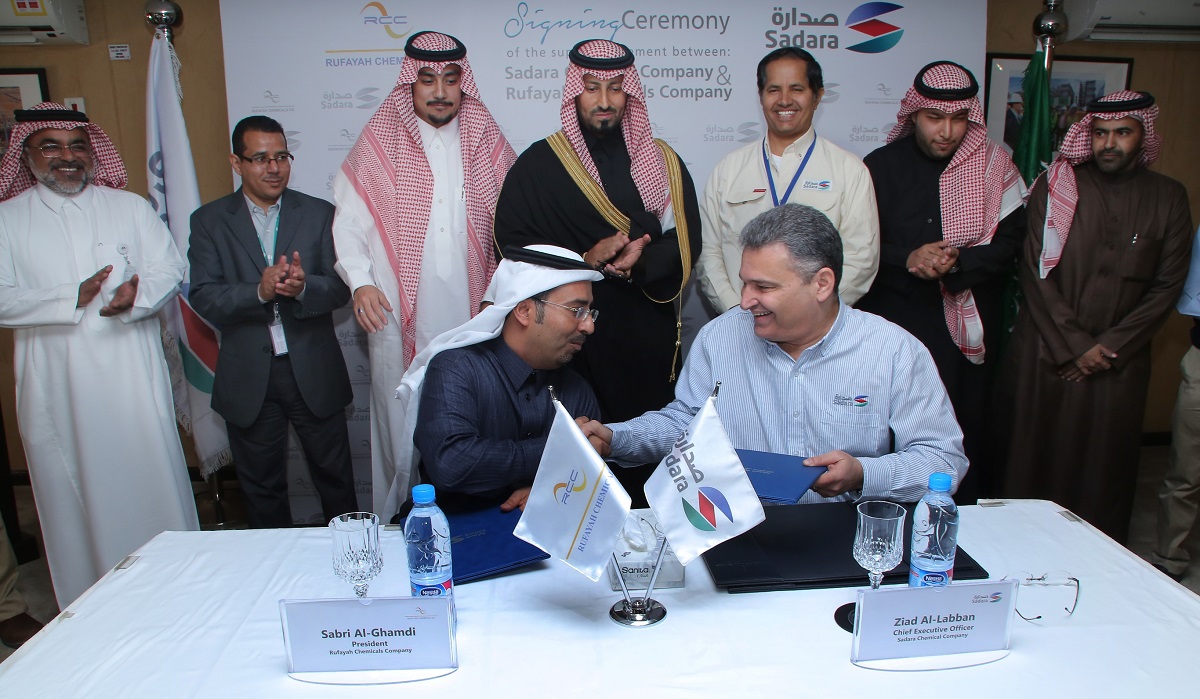 Jubail, Saudi Arabia - 11 December, 2016: Sadara Chemical Company (Sadara) and Rufayah Chemicals Company (RCC), a Saudi downstream company, have recently signed a long-term partnership agreement through which Sadara will supply RCC with Aromatics Concentrate (Pygas) and Pyoil, generated from cracking naphtha, to be used by RCC in a new chemical complex planned for PlasChem Park, a collaborative effort between Sadara and the Royal Commission for Jubail and Yanbu (RCJY). The supply agreements will cover a period of 20 years.
The RCC chemical complex will have a total investment of about $500 million, and will utilize the feedstock obtained from Sadara and potentially other liquid crackers in Saudi Arabia, to produce a wide-range of downstream chemical products such as hydrocarbon resin, isoprene, pure DCPD, Aromatic Solvents, Premium Wash Oils and other products. Once complete, RCC expects to manufacture 12 different downstream products with an overall production capacity of more than 350 KTA. The complex is projected to be on-stream in December 2020.
Commenting on the agreement, Mohammad Alazzaz, Director of Value Park, Sadara, said: "We are delighted that RCC has selected PlasChem Park as the site for one of the largest hydrocarbon resin plants in the world, and certainly the biggest undertaking in PlasChem Park thus far. The new RCC plant will produce unique specialty chemicals that will serve the growing specialty chemicals industry in the Kingdom and the wider MENA region, filling a gap in local manufacture and supply."
Alazzaz added: "We have been proud to work with the RCC team, which is composed of entrepreneurial Saudis with a strong determination to create value in Saudi Arabia. RCC will collaborate with a leading technology provider and producer of Hydrocarbon Resins to implement the necessary technology. We see significant opportunities to enable more local production in the specialty sector, reducing reliance on imported materials especially in applications such as specialty plastics, oil and gas chemicals, construction material, water treatment, home/personal care, comfort market, and other applications."
Fawaz AlShora, General Manager, RCC, said, "For the past three years, RCC has been developing this project to be one of the most well-integrated complexes in the world for the production of Hydrocarbon Resins and various other products, all of which resemble a great contribution to the downstream chemicals industry in the Kingdom of Saudi Arabia. The implementation of this project will convert underutilized existing raw material streams into value added specialty chemicals and products. The synergy created between Naphtha crackers, such as Sadara's Mixed Feed Cracker and other liquid crackers in Saudi Arabia, and the Rufayah chemical complex allows a very dynamic and efficient model to capitalize on available raw materials through sustainable value addition."
RCC is a local Saudi company established by Global Company for Downstream Industries (GDI) specifically for the utilization of Pygas and Pyoil and the production of Hydrocarbon Resins, among other downstream products in Saudi Arabia.
Also commenting on the agreement, HH Prince Nayef Bin Sultan Bin Mohammed Bin Saud Al Kabeer, GDI Chairman, said, "The Rufayah complex aligns perfectly with the overall strategies of the Kingdom, diversifying the Kingdom's production portfolio, and promoting further downstream opportunities. Hydrocarbon resins alone are a key component in the adhesives industry, paints and coatings sector, inks manufacturing, and rubber compounded products. Other products such as premium wash oils, aromatic solvents, and naphthalene will substitute local imports by providing them on a next-door basis, with quality and services exceeding the current imported products."
PlasChem Park is a 12 km² industrial park in Jubail Industrial City II, dedicated to downstream chemical and conversion industries. PlasChem Park is a key element differentiating Sadara from other petrochemical, chemical and plastics manufacturing projects in Saudi Arabia. It is uniquely positioned to enable and support downstream opportunities in many market segments, including the Hydrocarbon Resin Cluster, Ethylene Oxide/Propylene Oxide (EO/PO) Cluster, Polyurethane Cluster and a Plastics Cluster. These clusters are designed to attract diversified investments into PlasChem Park for downstream applications such as the production of oil and gas chemicals, construction materials, auto components, animal feed, paints and coatings, as well as home and personal care products.
- Ends -
About Sadara:
Sadara is a joint venture developed by the Saudi Arabian Oil Company (Saudi Aramco) and The Dow Chemical Company. With a total investment of about $20 billion, Sadara is building a world scale chemical complex in Jubail Industrial City II in Saudi Arabia's Eastern Province. Comprised of 26 world scale manufacturing units, the Sadara complex is the world's largest to be built in a single phase and will be the first in the Middle East to use refinery liquids, such as naphtha, as feedstock. By using best-in-class technologies to crack refinery liquid feedstock, Sadara will enable many industries that either currently do not exist in Saudi Arabia or only exist through imports of raw materials. The adjacent PlasChem Park, a unique collaboration between Sadara and the Royal Commission for Jubail and Yanbu', will create more value downstream, generating unprecedented investment, innovation, economic growth and thousands of jobs.
About RCC:
Rufayah Chemical Company a local Saudi hydrocarbon resins manufacturer established by Global Company for Downstream Industries (GDI), a leading company in the Kingdom of Saudi Arabia focused on developing petrochemical projects, creating local specialty chemicals opportunities and adding value downstream. GDI has several investments in the Jubail area for the production of specialty solvents, additives, oil field chemicals and fine specialty chemicals, in addition to their formulation. GDI has also established three other downstream projects, all of which will be the first of their kind in the Middle East region.
For further information, please contact:
Sami Amin
Director – Public Affairs
Sadara Chemical Company
Mobile: +966501922155
Email: Sami.Amin@Sadara.com
Website: www.sadara.com